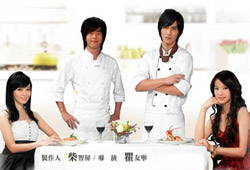 | | |
| --- | --- |
| Cast: | Vic Zhou, Patty Hou, Alan Kuo, Megan Lai, Zhu De Gang, Teresa Ji, Zhang Yong Zhi, Deng Jiu Yun, Billie, Gu Xuan Chun, Xu Zhen Wei, Eric Tu, Cha Ma Ke, Tang Qi, Huang Yi Gui, Lin You Fang, Cai Jie De, Luo Bei An, Bao Ma, Fei Zhen Hua, Qian De Men, Wang De Sheng, Wu Zhong Tian, |
| Genre: | Romance, Food |
| Episodes: | 20 |
| Broadcast Year: | 2007-09-16 |
| English Subtitle: | Yes |
Description:
DVD version Episode 21-32 Downloads:
Bai Hui has a refined palate that allows her to enjoy every wonderful texture and taste different cuisines have to offer. Ever since little, food has been the centre of her world. It celebrated her college graduation and consoled her when her beloved father passed away. Her love for eating ignites passion in the heart of a genius chef, Zi Tian, who never found joy in food.