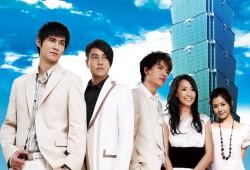 | | |
| --- | --- |
| Cast: | Vic Zhou, Chen Yan Xi, Ken Zhu, Kingone Wang, Terri Kwan, Ji Qin, Anthony Bao, Eric Tsang, Gu Bao Ming, Lin Mei Xiu, Vanness Wu |
| Genre: | Romance |
| Episodes: | 16 |
| Broadcast Year: | 2008-02-03 |
| English Subtitle: | Yes |
Description:
Xu Le (??) is a bestselling author who never left home. He was recently struck with a case of writer's block and decides to search for inspiration. So he decides to work as a taxi driver hoping that by listening to his passengers; he'll be struck with some inspiration. Coincidentally, Xu Le meets his high school classmate, Ah Hao (??), who is also a taxi driver. Xu Le has not seen Ah Hao for years. Ma Yong Rui (Xiao Ma - ??) is an heir to a five-star hotel and is also Xu Le's and Ah Hao's old classmate. Lu Yi (??) is now a fashion magazine editor and she was the dream girl that they all wanted. Pan Neng Xian (???) is a 24 year old girl who recently graduated from college, who gets a job as a PR assistant in Yong Rui's five-star hotel.