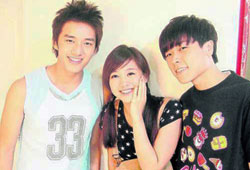 | | |
| --- | --- |
| Cast: | Gui Gui, George Hu, Amanda Zhou, Jack Tan, Thomas Guo, Winnie Zhong, Jason Tsou, Ying Cai Ling, Na Wei Xin, Xie Li Jin |
| Genre: | Family, Comedy |
| Episodes: | 20 |
| Broadcast Year: | 2011-01-08 |
| English Subtitle: | No |
Description:
Me & My Brother tells about a simple town's 19year-old youth Da Hui (Jack) facing a poor childhood and maturing early together with a 20 year old with an IQ of a 10 year old, older brother Da En (Thomas). They lose both of their parents and depend on their grandmother since at a very young age. He and his childhood friend, Lu Wei Wei (GuiGui) had a relationship of simple love, but fate had them break up and have regrets. This drama not only tells of the two brother's kinship story, it also includes friendship and relationship elements.