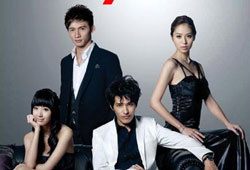 | | |
| --- | --- |
| Cast: | Lan Cheng Long, Wen Sheng Hao, Sonia Sui, Bianca Bai, Xiao Xiao Bin, George Zhang, Zhong Xin Ling, Zhao Zi Qiang, Chen Mu Yi, Dai Yu Jie, Li Hao Ting, Lin Bo You, Xiao Min Qiao, Chen Yi Yu, Tao Yan Wen |
| Genre: | Romance, Comedy |
| Episodes: | 21 |
| Broadcast Year: | 2010-02-28 |
| English Subtitle: | Yes |
Description:
After Xia He Jie was arrested for crashing a private event that Amanda attended, he was sentenced to 158 hours of community service in a kindergarten. And thus, it began the most hellish 158 hours of his life. There he met Ma Xiao Qian, a teacher who not only didn't fall for his charming personality like the rest of the female population, she made him suffer for every minute of his community service. What he didn't know was that Xiao Qian was a former neighbor who he had bullied relentlessly as a child. Now, she is bend on revenging for the miserable childhood that she endured under his tyrannical reign.