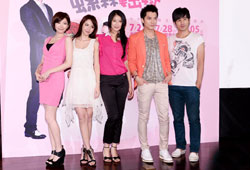 | | |
| --- | --- |
| Cast: | Megan Lai, Roy Qiu, Zhao Jun Ya, Tia Li, Stephanie Chang, Guo Xue Fu, Paul Hsu |
| Genre: | Romance, Comedy |
| Episodes: | TBA |
| Broadcast Year: | 2012-07-22 |
| English Subtitle: | Yes |
Description:
Luo Si Yi is highly competent in her job but very timid when it comes to love. One day, she finds herself working under new manager Gao Cheng Kuan, who is known to be ruthless in both love and business. He sees all his employees as screws that needed to be tightened or throw away if rusted. Will she be able to please the ever-demanding boss or will him mellow down and be one with the people?