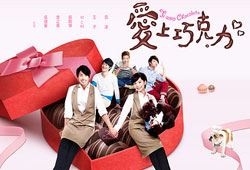 | | |
| --- | --- |
| Cast: | Vanness Wu, Joanne Zeng, Dou Zhi Kong, Guo Shu Yao, Wang Zi, Lene Lai, Ah Ben, Bu Xue Liang, Michael Zhang, Guo Shu Yao, Ge Wei Ru, Zhou Dan Wei, Kun Lin |
| Genre: | Romance |
| Episodes: | 80 |
| Broadcast Year: | 2012-04-10 |
| English Subtitle: | No |
Description:
Vanness plays a successor of a business. His dream is to open a chocolate store and be an expert in chocolate. He ends up leaving his business and his family to fulfill his dream. Joanne is someone who spent her days slogging and taking up part time work. One day, she ends up working for Vanness and above all, she has to dress herself as a man for the job.