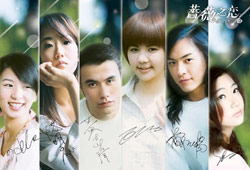 | | |
| --- | --- |
| Cast: | Ella Chen, Jerry Huang, Joe Cheng, Joelle Lu, Cecilia Yip, Billie, Selina Ren, Hebe Tian, Hong Jiao Nang, Z-Chen, Senda Aisa, Zeng Guo Cheng, Dylan Kuo, Kenji Wu, Zhang Hao Ming, Huang Wan Bo, Renzo Liu, Qian De Men, Wang Juan, Long Chen Han, Zhang Yong Zheng, Gu Xuan Chun |
| Genre: | Family, Romance |
| Episodes: | 26 |
| Broadcast Year: | 2003 |
| English Subtitle: | Yes |
Description:
A stone with an ugly outward appearance and not catching to the eye, Would people be able to see a glittering gem that is wrapped around inside? Being looked down by people for a long time, cold and indifferent treatments, It will gradually turn rusty and lose its brilliance; Or maybe after experiencing all these hardships, It's luster and beauty will be highlighted even more? "The Rose" correctly narrates out this kind of story ?? Bai He is an extremely ordinary young girl in the story. Even though she has a kind-hearted and generous heart, but being short and chubby, she is always being refused by people because she is not attractive enough. Her appearance has always been the origin of Bai He's inferior feelings. Because that is a fact that no matter how much strength she uses, she is unable to change. This inferior feeling deeply influences Bai He's life, her interpersonal relations, and even her own emotions. There are lots of beautiful girls that always appears by Bai He's side. The radiance that they give off is like that of a peacock spreading its feathers, conceited and arrogantly striding ahead with their chins up. And Bai He is always used to retreating to the back. In her mind, "I am always ugly." has long ago became an established law that doesn't change. When other people harms her, makes her doubt this established law of hers, she would turn around and make excuses for that person, comforting her own wavering, uneasy heart. Bai He is exactly this girl that is gentle and soft, yet has inferior feelings of herself. Even though her beautiful heart far surpasses outward appearances by a thousand hundred times, but in a society that has all along judged people by their appearances, she is just like many of the other girls who also has ordinary appearances - deeply feels miserable over their lack in their looks and forgets about the other characteristics and merits that they have. That is, until she finds the confidence and courage to love herself from all those people that loves her. She eventually reveals the brilliant glitter of her gem and helps the people that she loves in her family to untie the knot of many years of disputes, to accept each other once again. The Rose preserves the established roles of the original story and the story's infrastructure, also strengthens the personality of the roles, making them stand out, detailing the turning points of the character's mood within the show, hoping that within the entertainment, it can give the audience even more moving feelings. Furthermore, guiding the audience through an even deeper layer of thinking on love, family and friendship.