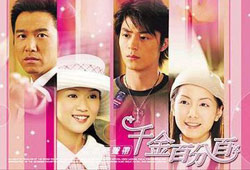 | | |
| --- | --- |
| Cast: | Chen Qiao En, Penny Lin, Wallace Huo, Deric Wan, Jason Hsu, Jason Tang, Ke Yi Rou, Liu Guang Yuan, Joyce Zhao, Jiang Zu Ping, Liao Jun, Ke Shu Qin |
| Genre: | Romance |
| Episodes: | 40 |
| Broadcast Year: | 2004 |
| English Subtitle: | Yes |
Description:
Twins Zhu Fang is acting as a fertility mom for other people. During the process of her pregnancy, her maternal instinct was strongly awakened and she is struggling between her pain and her responsibility. God gave her an opportunity of life and she gave birth to a pair of twin girls. Therefore, she left one of her daughters as a hand over and quietly took the other one away. Twenty years later The daughter that she left behind is now "Fu Er Mo Sha" Enterprise's Chairman's daughter - Zhuang Fei Yang. Fei Yang would never forget the day of her 20th birthday. For the purpose of giving her a surprise at her birthday party, while hurrying home on his helicopter ride, there was an accident and the helicopter fell. The company's core person - general manager, Bi De, is a handsome guy. Originally he is a very good-looking couple with Fei Yang and is also the person who her father has selected. At the time when Fei Yang is at her weakest moment, Bi De extended his warm shoulder to her. Fei Yang's speeding heart was taken over by Bi De. One evening, it was initially supposed to be a romantic marriage proposal, but it developed into a cruel conspiracy. The mean and ferocious Bi De, used a damaged car to take the unconscious Fei Yang and pushed it down a cliff… IM Com Wei Xiang, Ma Ji, Pa Zi, Ba Bi, Xiao Chan, these 5 youngsters who are building their own business, mistakenly were thrown together and created Zhu Luo Ji.com service company. As long as a business can make money, they would take it. Among one of the businesses is to work as waiters at Fei Yang's birthday party. It was at the party that Wei Xiang unexpectedly meets Fei Yang for the first time. This pair of eyes that can see through to the deepest part of a person's spirit, hence, is imprisoned in his mind. After this, even though they have no more interactionsw, yet, Wei Xiang is still silently concerned with any news on Zhuang Fei Yang. And the newest information is that Fei Yang is wounded because of love, has moved far away to Europe and lost all contact with her. Actually, Fei Yang, who was framed and pushed down the cliff, didn't die. Luckily she was saved by a weird doctor and meticulously "sculpted", remodeling Fei Yang's face entirely, changing it to look exactly like his daughter's. And Fei Yang, who has totally had her face changed, madly ran away under her nearly collapsing state. The present her is no longer Zhuang Fei Yang. Nobody knows her. She can't get into the company, can't go home, doesn't have a dime on her and also has no where to ask for help. Betel-Nut Girl One day, just when Zhu Luo Ji, this group of people is working, they meet up with betel-nut girl, Ye Xiao Feng. What's even more unbelievable is that Xiao Feng's appearance looks exactly like that of famous girl, Zhuang Fei Yang. Everyone's speculation is that the rich girl couldn't bear the simultaneous shock of losing of her father and the changed of heart of her lover and to the extent of trying to escape reality, she banished herself. With regards to Zhu Lou Ji, this is simply a huge opportunity that Heaven has given to them. Therefore, they work hard to get close to Xiao Feng, hoping that they will be able to fight for a chance to go move up in the world. So, Ye Xiao Feng is actually one of the twins that Zhu Fang took away all those years ago. The God of Fate apparently hasn't forgotten them. Going down the road, life has always been full of bumpiness. In order to share her mother's responsibilities, Xiao Feng works at the gas station in the daytime and in the night time, she would secretly go to the betel nut stand and work as a betel-nut girl. Would Fei Yang and Xiao Feng, this pair of twins, be able to reveal their identity? Sisters working together, would they be able to get back the father's "Fu Er Mo Sha" and be satisfied?