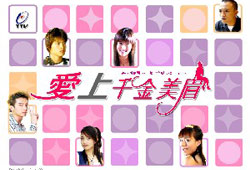 | | |
| --- | --- |
| Cast: | Chen Qiao En, Jason Hsu, Wang Li Ren, Zhou Li Cen, Tian Jia Da, Zhang Yu Huang, Wang Jia Hui, Tu Shan Ni, Huang Yu Rong, Song Zhi Ai, Zhao Shun, Li Hou Hao |
| Genre: | Romance |
| Episodes: | 13 |
| Broadcast Year: | 2004 |
| English Subtitle: | No |
Description:
Albee (Chen Qiao En) is a pampered, high-class young lady who has never experienced any hardship in her life. On her birthday, just when she expects to be proposed to by her long-time boyfriend Huang Bo Cheng (Tian Jia Da), her life is turned upside down. Her father is forced to flee the country and she finds herself without a father, home, or even a boyfriend. Soon after she finds herself destitute, she reads in the tabloids that Huang Bo Cheng and her best friend Zhen Zhen have been secretly seeing each other. To make matters worse, she is being followed by a tabloid photographer (Jason Hsu). What will Albee do?