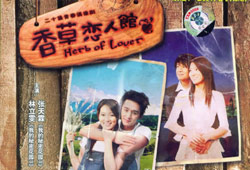 | | |
| --- | --- |
| Cast: | Wang Jue, Li Dai Ling, Wang Dao, Margaret Lin, Zhang Tian Lin, Yang Ya Zhu, Chen Yi Jia, Wu Jun Qiang, Duncan, Shen Hai Rong, Rong Xiang, Chen Hong, Jin Yu Lan, Phyllis Quek, Liu Ke Mian, You Qiu Xing, Yan Zhi Lin, Gu Han Yun, Katherine Wang Kai Di, Ji Wen Hui, Xue Zhi Zheng, Yang Ze Zhong, Yang Qi An, Jin Gang, Kitamura Toyoharu, Zhang Zhi Cheng, Xie Li Jin, Chen Bo Zheng, Lin Yi Hong, Alvin Ceng, Zhang Rui Jia, Li Jia Yu, Qiu Long Jie, Li Hou Hao |
| Genre: | Romance |
| Episodes: | |
| Broadcast Year: | 2004 |
| English Subtitle: | No |
Description:
Story regarding Herb: This happened to an employee and a customer at a herb cuisine restaurant. Through each and everyone's interaction and help within "Lover of Herb", it brings out one touching love story after another. Story regarding Lover: Yang Ke Fan grew up in a herb farm on top of a hill. After he takes over the restaurant that his father started, he invited his younger sister, Yang Er Shan, who grew up on the hill together with him, to come and work in the kitchen. From then on, the restaurant changed its name to "Lover of Herb". It is also uncovered that Ke Fan and Er Shan are not blood related siblings. Bartender, Yang Shou Zhi, is a witty, humorous and romantic guy from Hong Kong. He fell in love with the simple and goodhearted Er Shan at first sight and started to pursue her with much enthusiasm. He is a totally different guy then the reserved and sophisticated Ke Fan. Er Shan, who comes from the hillside to the city and has still not gotten used to the busy and crowded environment, gets caught up in this complicated relationship with the two guys.