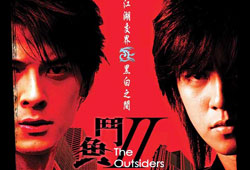 | | |
| --- | --- |
| Cast: | Dylan Kuo, Ady An, Show Lo, Michael Zhang, Joelle Lu, Xie Cheng Jun, Pang Yong Zhi, Carmen Tang, Xue Yuan Cong, Zhang Guo Zhu, Ken Lo, |
| Genre: | Action, Romance |
| Episodes: | |
| Broadcast Year: | 2004-09-29 |
| English Subtitle: | No |
Description:
After Dan Zi kills the guy whom Ah Bao sent to rape Yu Yan and gets locked away in prison, as a result of that, everyone's life changed. In order to not let herself be Yu Hao's burden any longer, Yu Yan tries diligently to get rid of her delicate and weak image and turns herself into "the big sister". Even though Yu Hao doesn't like Yu Yan's transformation, yet he is unable to stop her. Yu Yan is not willing to let Yu Hao know that she was raped before and for this reason, it is harder to convince him of the reason why she has to change. As a result, misunderstandings and conflicting opinions gradually draws a barrier between them...