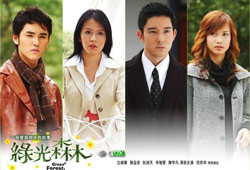 | | |
| --- | --- |
| Cast: | Leon Jay Williams, Esther Liu, Song Zhi Ai, Ethan Ruan, David Chen, Liang Xiu Zhi, Lin Ke Wei, Kido, Huang Ruo Bai, Bu Xue Liang, Chen You Fang, Joanna Feng, Cai Li Qun, Lin Xiu Jun, Yao Kun Jun, Fan Zong Pei, Ishii Mika, Zhao Zhong Ting, Shi Yu Yan, Zheng Ling Yun, Lin Zheng Xun, Wang Ming Yi, Zhan Jia Nuo, Xiang Bo Tao, Wu Yan Xuan |
| Genre: | Romance |
| Episodes: | |
| Broadcast Year: | 2005-10-23 |
| English Subtitle: | No |
Description:
Su Fei grows up from a family with musical talent. She is a blessed and happy girl with a positive personality and no scheming thoughts. Luo Shan grows up in Su Fei's family. Her father is the Su family's driver. Her mother ran away from home when Luo Shan was young and there has been no information from her since. Luo Shan is envious of Su Fei and hopes that one day she can become the type of person that Su Fei is. Luo Shan's father passed away because he was driving under the influence of alcohol and there has been no information on Luo Shan's mother ever since she ran away when Luo Shan was young. As a result, Su Fei's parents adopted Luo Shan and changed her name to Su Shan and became Su Fei's sister. Growing up as a driver's daughter and thinking of herself as a "low class person" has caused Su Shan to feel inferior. As a result, Su Shan has always had a wish. She wished that she can become someone like Su Fei because she always believed that as long as she can become Su Fei, then she would definitely be happy. Under this type of a psychological shadow, Su Shan fosters the behavior that as long as Su Fei has it, then she must have it too. From childhood to adult, this is the way that Su Shan treats Su Fei. Su Fei knows but she continues to remember the words of her mother to regard Su Shan as her real sister and not to tell anyone that Su Shan is an adopted child. Moreover, Su Fei believes that Su Shan must be like this because of her background and as a result, she didn't haggle over the matter with Su Shan. Su Shan and Su Fei along with Yuan Fang, who grew up together with them, were originally going to study at Green Light Forest - a school with no walls - Green Light Elementary School. However, because they had to move homes, they must leave Green Light Elementary School and go to study at Spencer Royal School of Music. Su Fei, who loves her independence, was very unwilling but she still had to go to a school enclosed with high walls - Spencer Royal School of Music. Within the strict Spencer Music School, there is one rule: those who forget to bring their textbooks would receive a beating on their palms. One day, the founder of Spencer Royal School of Music's son, William, arrives from Austria to listen in on a class. Su Fei, who didn't know of William's identity, mistakenly thinks that he forgot to bring his textbook and lent her textbook to him. Because of this, she was punished for not bringing her textbook. William couldn't bear to see Su Fei receive a beating on her palm because of trying to help him and pulling on Su Fei, ran out of the classroom with her. They both skipped class and both got lost inside Green Light Forest. However, it is because they got lost that they saw the legendary green light. Inside the green light, an old grandmother in the forest told William, after he grows up, he would meet a girl that he will love very deeply. He must trust her, otherwise, this girl will lose everything because of him and maybe even lose her life. The old grandmother also told William and Su Fei that in the world of love, time stands still. William and Su Fei listens attentively and this speech seems to be deeply engraved in both of their small minds. William takes out the Spencer family crest and gave it to Su Fei. He tells Su Fei that he will protect her forever. This is the promise that he makes to Su Fei and Su Fei firmly remembers this promise in her heart. Su Fei asks William for his name and he tells her that he is William. The mischievous Su Fei, happily tells William that she is Prince William's princess and will not tell him her real name. William has to return to Austria. The day that he is to leave, he wants to return to Spencer Royal School of Music to say goodbye to the cute girl. However, on that same day, because Yuan Fang also has to leave the country to study music aboard, Su Fei was rushing to find Yuan Fang and missed seeing William. William, who is rushing to find Su Fei, arrives at Spencer's campus. He couldn't find Su Fei and runs into Su Shan in the hallway instead. Su Shan sees a special aura around William and remembers that she has to work hard to become a "high class person" so that she can break away from her low life shadow. In that brief moment, she lies to William and tells him that the girl that he is looking for is called Su Shan. He believed it to be true and thought that Su Fei's name is Su Shan. After they grew up, Su Shan becomes the artistic director at Spencer Royal School of Music and Su Fei, who returns from studying aboard at a separate Spencer school in Austria, wants to go and teach at Green Light Elementary School. And the young boy, Yuan Fang, has now become the famous international violinist, "Ou Wen." He gets invited by Spencer Royal School of Music to return to the country to hold a concert for the newly appointed CEO. The new CEO of Spencer Royal School of Music turns out to be William who returns to the country to take over the position of CEO after the founder of the school, who is also his father, passed away. William's return to the country, besides from taking over Spencer Royal School of Music, at the same time, he also wants to take this chance to find the girl from his childhood memories, "Su Shan." During Ou Wen's concert, William, Su Fei, Su Shan, Ou Wen, these four people meet. Ou Wen reunites with Su Fei, the girl that he has liked from his childhood and moreover hoped to be able to protect forever. William is happy that he has found the girl from his childhood "Su Shan," and will be able to keep his promise to her. Su Fei, on the other hand, doesn't recognize that Ou Wen is her childhood friend or that Su Shan's boyfriend, William, is the Prince William that made a promise with her in the past. Because of William's mistake, Su Shan does not dare to acknowledge her own lie and becomes the "Su Shan" that is within William's heart. Even though the four of them have reunited, but their relationship is not as they had originally hoped or thought it would be. William, who just returned to the country to hold the position of CEO, is faced with the Spencer Board of Director's decision to close down Green Light Elementary School, the most special school within the Spencer Educational Foundation. Because William agrees with the teaching method and mentality of the principal of Green Light Elementary School and also to protect his most beloved memories from his childhood, he decided to stand out and protect Green Light. Yet he meets opposition in one of the most conservative directors on the board, Director Shang. In addition, Director Shang proposed that if Green Light Elementary School doesn't win the upcoming music competition, then they will close down Green Light Village's plantation. Spencer School of Music, led by Director Shang, and Green Light Elementary School, protected by William, no matter which side wins the competition, the loser will have to hand over the position that they uphold now. A gambling stake in the hands of destiny launches between Spencer Institute and Green Light Elementary School. Su Fei, who has deep feelings for Green Light Elementary School, in order to protect the Green Light villagers' lifestyle, their home, their land, and to keep her most important childhood memories, she took on the responsibility of making sure that Green Light Elementary School will win the music competition. Ou Wen, who has had feelings for Su Fei since they were young, also joined hands with Su Fei to defend Green Light. They fought side-by-side for the purpose of keeping Green Light safe and sound just like the feelings and memories that they hold in their hearts which can never be erased. On the other hand, in order to make sure that Spencer gets first place, Director Shang plans to ask Su Shan, who is one of the judges of the competition to cheat on the judging. However this destructive plan was accidentally found out by William's mother, the Countess who is also a director of Spencer and Ou Wen. Su Shan feels the pressure from Director Shang and also from the Countess, who is the mother of William, whom she likes. Su Shan doesn't like Green Light because this is the school that "Luo Shan" studied at before. Yet she is even more afraid to lose William. Su Shan hesitates not knowing how she should choose... The music competition ended and Green Light Elementary School wins. Things become even more complicated for Su Shan, who continuously tries to protect her love and her happiness. Su Shan is on the verge of getting engaged with William. Under a state unknown to herself, Su Fei becomes the third party between Su Shan and William. Ou Wen, who is aware of the truth of the whole matter, even though he has deep feelings for Su Fei but seeing how William and Su Fei's distance grows further and further apart, he decided that he can no longer let William continue thinking that Su Shan is Su Fei. Ou Wen decides to come forward and tell Su Fei and William the truth that they are both the person that they have each been looking for and waiting for all this time. However, Su Fei chooses to not believe Ou Wen and misses the chance to reunite with William again. During a barbecue outing at Green Light Elementary School, Su Fei finally finds out that the CEO William that Su Shan is engaged to is the Prince William that she has been waiting for all these years. They finally recognize each other. Seeing how Su Fei seems to be able to get her happiness and the Prince and the Princess will be living in harmony, but they both don't know that there are even more difficulties that are waiting for them on the road ahead. Yet, no matter how the future will be, in William and Su Fei's hearts, there has always been a faith that have supported them and that is, as long as they believe, then they will see the happy green light!