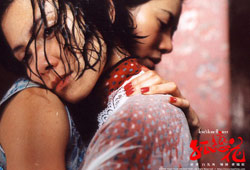 | | |
| --- | --- |
| Cast: | Anita Yuen, Angelica Lee, Hsiao Shu Shen, Tou Chung Hua, Gao Jie |
| Genre: | Romance |
| Episodes: | |
| Broadcast Year: | 2005-04-17 |
| English Subtitle: | No |
Description:
In the pre-communist Shanghai, Yun Fang was a famous courtesan. Though she was surrounded by men, she secretly longed for a young singer, Wu Bao. Knowing her feeling would not be reciprocated, she channeled her love by nurturing and protecting the girl. She witnessed Wu Bao's blossoming love for musician San Lang, then their heartbreaking separation due to civil war, and later, the girl's premature death. After the war, Yun Fang left the war-torn Shanghai for the Nationalist-occupied Taiwan, where she and San Lang met again. But their glamorous selves and their lovely Wu Bao was no where to be found.