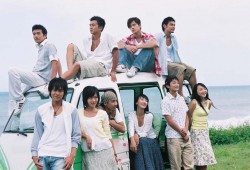 | | |
| --- | --- |
| Cast: | Eddie Peng, Joelle Lu, Monie Tung, Ken Chang, Ke Yu Lun, Ben Bai, Zhou Wen Xian, Pan Yi Jun, Na Wei Xun, Guo Shi Lun, Patrick Li, Angela Zhang, Xu Qiong Yun |
| Genre: | Romance |
| Episodes: | 14 |
| Broadcast Year: | 2005-07-03 |
| English Subtitle: | Not Complete |
Description:
Unable to cope with the grief of losing his best friend and then his beloved grandfather, Xu Wei shut the world out. In search of redemption, he escaped to Hualian, a place his grandfather often talked about with fondness. There, he began working as a dolphin trainer. Through his work with the dolphins, he gradually opened his heart to the people around him.