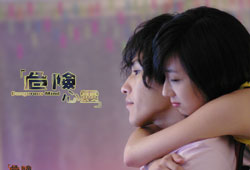 | | |
| --- | --- |
| Cast: | Kwai Lun Mei, Huang He, Guan Yong, Li Lie, Gao Jie, Cai Can De, Wen Sheng Hao, Lan Cheng Long, Xie Li Jin, Guo Shi Lun, Teresa Ji, Zhang Shu Hao, Hu Huan Wei, Deng Sheng Yao |
| Genre: | Human |
| Episodes: | |
| Broadcast Year: | 2006-07-25 |
| English Subtitle: | No |
Description:
Xie Zheng Jie had always been a good student in eyes of his teachers and parents. However, he began to question the real purpose of pursuing an education when his school bullied a classmate, who was diagnosed with brain tumor, into transferring to a lower ranking class. Zheng Jie further strayed from the good student path when he met troubled teens, Ai Li and Gao Wei Qi. Series of conflicts between him and the school led the people around him to rethink their own paths, and he opened a communication channel between the parents, the teachers and the school.