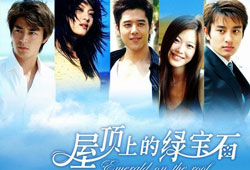 | | |
| --- | --- |
| Cast: | Wallace Huo, Sun Li, George Hu, Yvonne Yao, Jia Nai Liang, Zhang Guo Li, Zhang Tie Lin, Liu Xue Hua, Bai Bing Bing, Bai Xue, Zhang Yi Sheng, Wu Qian Qian |
| Genre: | Romance |
| Episodes: | |
| Broadcast Year: | 2006-09-30 |
| English Subtitle: | No |
Description:
In this modern day retelling of Shakespeare's ROMEO AND JULIET, Chou and Mwo fall in love with each other against their respective families' wishes. After countless struggles, Mwo is forced to leave with another man as Chou gives in to his father's demand to an arranged marriage. Before she leaves, however, Mwo gave Chou a green ruby necklace as a testament of their feelings for each other. Eventually, the necklace will reunite the feuding families once again, as Mwo and Chou vow to be together, even in death. EMERALD ON THE ROOF is an emotional tale about true love against all odds.