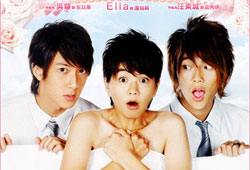 | | |
| --- | --- |
| Cast: | Ella, Wu Chun, Jiro Wang, Danson Tang, Xie Zheng Hao, Chen Wen Xiang, Yang Hao Wei, Xie He Xian, Tang Zhi Ping, Zhang Hao Ming, Kao Chi Hung, Yuan Ming Zhe, Zhang Yong Zheng, Gong Ji An, Chen Zhen Wei, Huang Wan Bo, Ethan Ruan, JJ Lin, Guo Ching Chun, Alexia Gao, Nissa, Duncan, Joelle Lu, Chen Xiang Ling, Cai Han Cen, Yuri Huang, Vivienne Lee, Hank Wu |
| Genre: | Romance, Comedy, School |
| Episodes: | 15 |
| Broadcast Year: | 2006-11-19 |
| English Subtitle: | Yes |
Description:
After watching a high jump competition on TV, Lu Rui Xi was so inspired by a jumper named Zuo Yi Quan that she decides to transfer to his school, which happened to be an all-boys school; therefore, she disguises herself as a boy to get accepted. At the school, Rui Xi befriends Jin Xiu Yi. One day during a friendly soccer match, Rui Xi is knocked unconscious by Xiu Yi. Quan carries her to the infirmary and realizes that Rui Xi is in fact a girl! However, Quan keeps her identity a secret. At the same time, Xiu Yi starts to question his own sexual orientation when he finds himself having feelings towards Rui Xi.