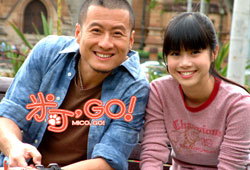 | | |
| --- | --- |
| Cast: | Li Jia Ying, Tsai Pei Lin, Hong Hao Xuan, Mo Zi Yi, Ke Shu Qin, Zhu Lu Hao, Sun Xing, Wang Jian Min, Xiang Bo Tao, Liang Xiu Zhi, Jason Tang, Liang Jia Rong, Chamder Tsai, Chen Jian Zhou, Liang Xiu Shen, Li Lie |
| Genre: | Romance, Comedy, Family |
| Episodes: | |
| Broadcast Year: | 2006 |
| English Subtitle: | No |
Description:
Shao Xuan was a vivacious 16 year-old girl. Then, a near fatal accident took away her vision. What was once a bright world full possibilities is now dark and limited to the extend of a helping hand. She fell into a deep depression. Fortunately, Mico, a guide dog for the blind, gave her back the eyes she lost and a second chance in life. She slowly learned to live independently as a blind person and regained her lively personality.