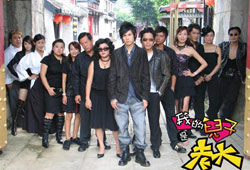 | | |
| --- | --- |
| Cast: | Jian Chang, Lin Mei Xiu, Chen Yi, Du Shi Mei, Senda Aisa, David Huang, Wen Cui Ping, Guo Shi Lun, Gina Lin, Tang Jia Hao, Kingone Wang, Bu Xue Liang, Hsia Ching Ting |
| Genre: | Family, Comedy |
| Episodes: | |
| Broadcast Year: | 2006-02-06 |
| English Subtitle: | No |
Description:
It's a simple matter of inheritance dispute. Tian Ding, the old brother, is smart and resourceful. Yet, being heir-less, he is not rightfully entitled to the inheritance. Wang Cai, the younger brother, fails at every thing he does. But, he has the only heir to the clan, Xiao Ming, which guarantees his inheritance rights. Being such, there is a wall between the two families. Xu clan's only heir, Xiao Ming, is by nature timid and cowardly. He often gets bullied in school. One day, on his way home from detention, he gets involved in a gang-related fight and saves the mob boss of Jishi gang. Not long afterwards, the mob boss gets imprisoned. Before he leaves for prison, the mob boss appoints Xiao Ming as the subtitute leader. The strange turn of event hasn't made Xiao Ming into the cool guy. Instead, his cowardness caused quite a few hilarious ruckus in the not-so-friendly Jishi gang.