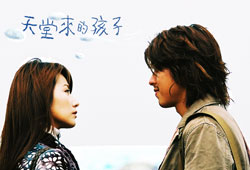 | | |
| --- | --- |
| Cast: | Lee Wei, Chen Yi Rong, Wang Zheng Wei, Gao Yi Xiang, Sonia Sui, Huang Hong Sheng, Fang Si Yu, Qiu Xiu Min, Zhen Xiu Zhen, Gao Jie, Michael Shi Wen Bin, Lin Li Yang, Huang Jia Qian, Lin Zai Pei, Li Tian Zhu |
| Genre: | Romance, Family |
| Episodes: | |
| Broadcast Year: | 2006-08-21 |
| English Subtitle: | No |
Description:
They were young and madly in love. So they eloped. Soon, they were expecting their first child. However, the closer to her due date, the worse their marriage became. She finally called it quit when she found him cheating. She returned to her father's house and gave birth to her son, who died soon after birth. Disillusioned, she left with her father to the America and cut off all contact with her husband and friends. Years later, she returned with a fiancé. She went by another name and another past. She denied ever knowing them. Until, she met her beautiful and energetic son. Her father had lied to her. Her son wasn't dead. Her friends had lied to her. Her husband wasn't cheating. If they were only lies, then how should she faced herself for abandoning her child and the man she had loved? What about her fiancé?