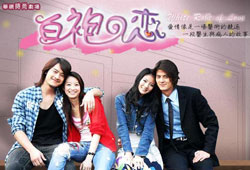 | | |
| --- | --- |
| Cast: | Michael Zhang, Megan Lai, Dylan Kuo, Ady An, Ah Bao, Pang Yong Zhi, Amanda Zhou, Zhang Kui, Li Tian Zhu, Ao Quan |
| Genre: | Romance, Medical |
| Episodes: | |
| Broadcast Year: | 2006-06-14 |
| English Subtitle: | No |
Description:
Mo Fan is back. After seven years of hiatus, Mo Fan returns to the place where he was expelled as a medical student. Mo Fan and Qi Xiu were once part of the same medical school elites. Under their professor, Liu's guidance, they developed a competitive kindred spirits, a brother-like bond. However, their bond was put to test for a woman who was important to both of them. The woman is Yi Nin, the daughter of Professor Liu. Yi Nin and Mo Fan grew up together and had thought they would one day be married. But things started to change when Qi Xiu entered the picture. Although he wasn't as gifted as Mo Fan, Qi Xiu's dedication to his work attracted Yi Nin. More and more, they grew closer. When Mo Fan found out, he gave them his blessings and left the relationship. Tragedy struck. Yi Nin developed Rasmussen's Encephalitis. Mo Fan conducted an extensive research and found that the medical science couldn't help her. He believed the best course of action was to remove the damaged brain cells and put her in a coma until a breakthrough in the future medical science. His idea was rejected by both Qi Xiu and the professor. But, he convinced Yi Nin, and they went ahead with the surgery. For this, Mo Fan was expelled from the medical school. He left Yi Nin in Qi Xiu's care and dropped out from the radar. Seven years later, Yi Nin is still in the coma, Qi Xiu has become a famous and successful surgeon, and Mo Fan is operating a small medical supply store in a small town of nowhere. They gather once again when a visiting prime minister is shot in the head in an assassination attempt. Because the prime minister is a Jehovah's Witness, his family strongly refuses the use of blood transfusion during the surgery. Knowing it's almost impossible to accomplish, Qi Xiu has no choice but to ask the genius Mo Fan for help. When a female journalist, who doesn't take "no" for answer, gets wind of their secret collaboration, she is determined to make it the biggest story of her career.