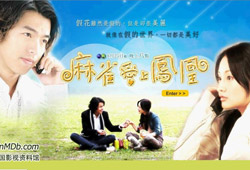 | | |
| --- | --- |
| Cast: | Li Xiao Lu, Lee Wei, Hong Xiao Ling, Jin Jia, Yao Yuan Hao, Guo Chao, Dong Wei Jia, Chen De Lie, Zhang Zheng Lan |
| Genre: | Romance |
| Episodes: | 24 |
| Broadcast Year: | 2007-06-25 |
| English Subtitle: | Yes |
Description:
Tiffany, a runaway bride from the countryside, was at the wrong place at the right time. She had picked up an abandoned cellphone outside a hotel window and answered a fateful call from Steven. As it turned out, the phone belonged to Li Hui, who had been kidnapped. Steven sought Tiffany's help in rescuing her, as he was too far away to save Li Hui in time. Through this twist of fate, two of them became friends over the phone despite having never met each other.