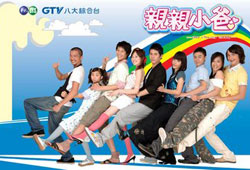 | | |
| --- | --- |
| Cast: | Julian Yang, Jaline Yeh, Wang Xin Ru , Rou You Xuan, Lu Ting Wei, Zhang Shan Jie, Wasir Zhou, Huang Wen Xuan, Shi Jing Jing, Ge Wei Ru, Alexia Gao, Huang Tai An, Jiang Wei Wen, Lin Mei Xiu, Xu Xiao Shun, Billie, Wu Jia Wei |
| Genre: | Family, Comedy |
| Episodes: | 14 |
| Broadcast Year: | 2007-02-14 |
| English Subtitle: | Not Complete |
Description:
Hiring one young and good-looking daddy for half year duration. Room and board included. Upon the death of their most beautiful mother in the whole wide world, the rich but helpless orphan sisters are left to fend for themselves against their greedy great-aunt, who is plotting to seize their fortune and kick them out of their big, luxurious house. To counter their great-aunt's evil plot, the sisters hire a man to assume the role of their mother's newly married and sadly widowed husband. This plan may just work and fool their great-aunt's prying eye, if only their half-sister would stop trying to kick their new daddy out of the house.