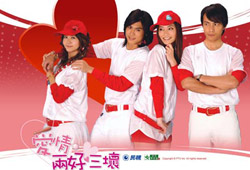 | | |
| --- | --- |
| Cast: | Chen Yi, Joanne Zeng, Joyce Zhao, Tony Sun, Gu Han Yun, Jiang Wei Wen, Guo Shi Lun, Shivia Lee, Zhang Yun Ze, You Ding Gang, Cai Zhuo Shu, Lan Jun Tian, Lu Pei Yi, Gao Ming Wei, Makiyo, Tang Jia Hao, Hu Gua |
| Genre: | Romance, Sport |
| Episodes: | 13 |
| Broadcast Year: | 2007-10-14 |
| English Subtitle: | Not Complete |
Description:
Ah Ke is an unambitious, unimportant, plain sales clerk who is fanatic about baseball. After a year of secret crush on his boss, Wen Zi, he decides to confess to her on her birthday. However, an irresponsible prediction from an eccentric tarot card girl leads him on a love journey that can only be described using baseball terms: Three balls and two strikes.