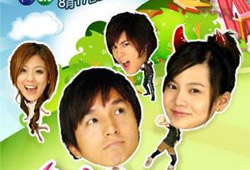 | | |
| --- | --- |
| Cast: | Joanne Zeng, Sam Wang, Chen Yi, Genie Zhuo, Gu Bao Ming, Liang Zhe, Billie, Zhang Ke Fan, Wang Li Ren, Gao Ming Wei, Ge Lei, Xie Zheng Hao, Chen Wen Xiang, Lu Man Yin, Hu Kang Xing, Guo Ding Wen, Ya Li, Ban Tie Xiang, Xiang Bo Tao |
| Genre: | Romance, Comedy |
| Episodes: | 24 |
| Broadcast Year: | 2007-08-17 |
| English Subtitle: | Yes |
Description:
Ah Chu is a mean girl. Well, she looks that way. But, under her tough exterior, she is a kind-hearted and charitable modern day female chevalier. One day, this girl encounters a gentle and honest man named Ling Ping Zhi. But he's never been away from his mother and is very naive. Therefore, Ah Chu displays her chivalry and saves the bachelor in distress. Later when he enters the showbiz, she helps him manoeuvre the dangers of show biz.