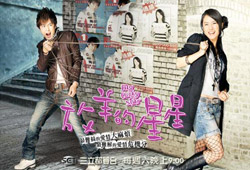 | | |
| --- | --- |
| Cast: | Jimmy Lin, Yoo Ha Na, Hong Xiao Ling, Leon Jay Williams, Lee Wei, Wang Dao, Dong Zhi Cheng, Huang Yu Rong, Chen Wei Min, Zheng Xiao Hui, Tsai Pei Lin, Guo Shi Lun, Niu Cheng Ze, Meng Ting Li, Song Zhi Ai, Fu Pei Ci, Li Zhi Qin, Cheng Bo Ren, Lin Yi Hong, Renzo Liu, Liang Xiu Zhi, Xie Qi Wen |
| Genre: | Romance |
| Episodes: | 20 |
| Broadcast Year: | 2007-03-11 |
| English Subtitle: | Yes |
Description:
DVD version Episode 21-31 Downloads:
Like the boy who cried wolf, Xia Zhi Xing had lied one too many times. So when she did tell the truth, nobody believed her except for the most unlikely person, Zhong Tian Qi, a runaway young master of a jewelry empire. His belief in her inspired her to become a real jewelry designer instead of a lying, scheming jewelry con artist. In the process, she taught him the real value of jewels that he is destined to inherit.