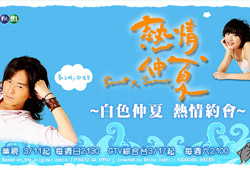 | | |
| --- | --- |
| Cast: | Joe Cheng, Cai Yi Zhen, Zhang Yu Chen, Ethan Ruan, Huang Hong Sheng, Danson Tang, Shin, Li Li Ren, Sandrine Pinna, Deng Jiu Yun, Zheng Yi Pin, Chen Wei Min, Guo Ching Chun, Hsia Ching Ting |
| Genre: | Romance, Comedy |
| Episodes: | 12 |
| Broadcast Year: | 2007-03-11 |
| English Subtitle: | Yes |
Description:
Because of one dollar, Xia Ya (Cai Yi Zhen) befallen many unfortunate events. When she feels like all hope has lost, an angel comes and gives her one dollar which saves her life. She falls in love with that angel, who is a model dressed in an angel outfit. But he is no angel - he is the devil in disguise, Ouyang Lei (Joe Cheng), the younger brother of her best friend, Ouyang Yu Yan. Being the youngest of the family as well as a famous model, Lei is very spoiled and everyone let him have his way, until Xia Ya came along. Xia Ya did what nobody else would do, and Lei starts to develop an interest in her, but he seems very devilish in his ways. What will become of them?