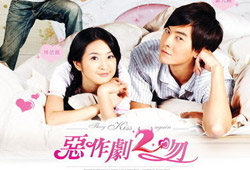 | | |
| --- | --- |
| Cast: | Ariel Lin, Joe Cheng, Jiro Wang, Zhang Yong Zheng, Cyndi Chaw, Tang Tsung Sheng, Zhang Bo Han, Danson Tang, Figaro Ceng, Cai Yi Zhen, Jiang Pei Zhen, Xiu Jie Kai, Ma Nian Xian, Hu Pei Ying, Zhu De Gang, Rui Sha, Senda Aisa, Gu Xuan Chun, Wang Zi, Aaron Yan, Billie, Joelle Lu, Guan Jia Yun, Qiu Xiu Min, Lin Xiao Rong, Qu You Ning, Jason, Tiffany Xu, Candice Liu, Petty Yang, Kitamura Toyoharu, Lin Jia Yu |
| Genre: | Romance / Comedy |
| Episodes: | |
| Broadcast Year: | 2007-12-16 |
| English Subtitle: | Yes |
Description:
The sequel of It Started With A Kiss begins with Xiang Qin and Zhi Shu's wedding and honeymoon. Even after marriage, they experience problems and interferences within their marriage such as mistaken pregnancy, misunderstandings, and a run-in with a girl from Zhi Shu's past. Xiang Qin and Zhi Shu switch to medical school to become nurse and doctor. During that time, Zhi Shu meets new rivals who wish to outdo him and Xiang Qin makes four new friends, and one of them likes her and wishes to replace Zhi Shu. How will their lives turn out to be?