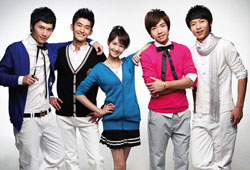 | | |
| --- | --- |
| Cast: | Zheng Shuang, Zhang Han, Yu Hao Ming, Wei Chen, Zhu Zi Xiao, Li Ying, Xiao Han, Wang Jian Xin, Peng Yang, Yin Ye Zi, Lu Hu, Ren Si Lu, Chen Yi Na, Chu Yi Nan, Cai Jun Tao, Jerry Huang, Li Dong Lin, Li Shi Peng, Ma Jian Qin, Xu Yang, Zong Feng Yan, |
| Genre: | Romance, Comedy |
| Episodes: | |
| Broadcast Year: | 2009-08-08 |
| English Subtitle: | No |
Description:
Chu Yuyun is a hardworking, smart high school girl. Her biggest dream is to enter the prestigious Aliceton University. With help from her uncle, she finally gets in. Yun Hai, Duan Mu Lei, Shangguan Ruiqian and Ye Shuo are the four richest students of Aliceton. With their gorgeous looks, they became the idols of all the girls there. However, they're unsatisfied with the lives that their parents forced upon them. In order to get the principle to kick them out of Aliceton, they performs a serious of pranks. While fighting for the justice of the victims of the pranks, Yuyun become the target of F4. Through fighting and arguing, they began to admire each other and became friends. Touched by Yuyun, F4 eventually becomes the top four students of the school. At the same time, they became loving, responsible males. Through the multiple struggles and hardships, Girl and F4 grew up. They learned to control their own lives, chose their own futures, and to strive for their dreams.