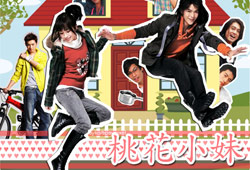 | | |
| --- | --- |
| Cast: | Jiro Wang, Cyndi Wang, Jing Wong, Ken Zhu, Lan Jun Tian, Ding Chun Cheng, Godfrey Gao, Calvin Chen, Wang Xin Ru, Li Jia Ying, Annie Chen, Yu Mei Ren, Xie Yu Wei, Honduras, Lin Zong Ren, He Mi, Rui Sha |
| Genre: | Romance |
| Episodes: | |
| Broadcast Year: | 2009-10-18 |
| English Subtitle: | Yes |
Description:
Tao Hua Xiao Mei is adapted from Japan's best selling manga Tao Hua Mei Mei. The plot is about Tao Hua who has been pampered and loved by 4 of her brothers almost to the extend of sister brotherly love. Thus the other brothers ask the 5th brother, Yu Yi to look after the sister, and with the appearance of prince charming Shi Lang, a love battle is created among everybody.