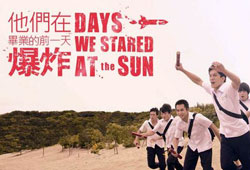 | | |
| --- | --- |
| Cast: | Huang Yuan, Wu Jian He, Zhang Jia Yu, Teresa Daley, Liao Yi Fan, Gao Chen Yu, Hong Qun Jun, Shan Cheng Ju, Kao Ying Hsuan, Cai Ming Yi, Chen Zhu Sheng, Tiffany Xu, Chris Wu, Na Wei Xun, Lala Hsu, Ma Nian Xian, Huang Jian Wei, Renzo Liu, Ding Ning, Liu Ying Shang |
| Genre: | School |
| Episodes: | 5 |
| Broadcast Year: | 2010-12-18 |
| English Subtitle: | No |
Description:
Chen Hao Yuan is a good student with a mellow personality. His best friend, Hong Cheng Yi, is a bad student who did time in juvenile detention for bank robbery. Together they helped their classmate get off drug addiction, exposed their teacher's dirty secrets, and even tried to find the bees that have gone missing because of the upcoming 2012 apocalypse. Then one day, their lives turned for the worse when a senator and his loan sharks caused Hao Yuan's father to commit suicide. The boys got a gun and decided to explode the day before their high school graduation.