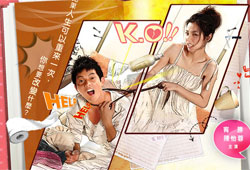 | | |
| --- | --- |
| Cast: | Chen Yi Rong, Chris Wang, Fan Guang Yao, Chen Bo Zheng, Lin Mei Xiu, Ma Nian Xian, Jiang Li Li, Tu Tai Fung, Guan Yong, Ying Cai Ling, Lin Wei Li, Ma Li Ou, Yvonne Yao, Hu Ying Zheng, Ke Su Yuan, Song Xin Ni, Wang Jian Min, Chen You Fang, Fu Pei Ci |
| Genre: | Romance, Comedy |
| Episodes: | 20 |
| Broadcast Year: | 2010-01-08 |
| English Subtitle: | No |
Description:
The only reason money-grabbing magazine editor Chen Miao Ru and unambitious salary man Ren Xiao Guo got married after 3 years of dating was because of money. Miao Ru got caught in a money bind flipping houses. Pooling their resources was the only way to prevent a financial meltdown of her own. But married life was nothing like their peaceful dating life. Soon, they were on the verge of divorce. Yet, Ren didn't want to a divorce. He wished they could press Ctrl + Z to return to earlier part of their lives and make better choices.