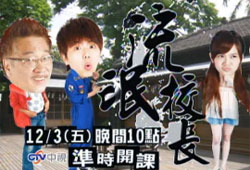 | | |
| --- | --- |
| Cast: | Li Luo, Richard Ng, Joanne Zeng, Huang Hong Sheng, Jacky Zhu, Shen Dong Jing, Zhang Ben Yu, Wang Yu Rou, Wang Mon Ling, Cai Gui, Tai Bao, Yang Shao Wen, Ma Nian Xian |
| Genre: | Comedy |
| Episodes: | 12 |
| Broadcast Year: | 2010-12-03 |
| English Subtitle: | No |
Description:
Gangster boss Jiang Hu Piao was not expecting to become a president of a school when he went to collect a delinquent debt. The debtor, who happened to be his former teacher and current school president, had no money to pay back, so he offered Jiang the school as repayment. Just when Jiang was about to refuse it, the president died of a heart-attack. Jiang had no choice but to take over the money-losing school and find ways to turn it into a money-making business.