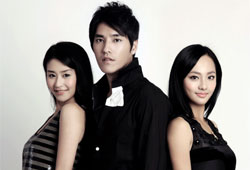 | | |
| --- | --- |
| Cast: | Lan Zheng Long, Zhang Jia Ni, Ying Er, Zhang Dan Feng, Lu Hu, Zhong Xin Ling, Peng Yang, Ni Jing Yang, Ge Lei, Li Dong Lin, Wang Xin Yu, He Ling, Yu Dan Lin, He Ming Han, Chen Heng, Jiang Yue |
| Genre: | Romance, Comedy |
| Episodes: | |
| Broadcast Year: | 2010 |
| English Subtitle: | No |
Description:
The optimistic and forward going girl Zhang Xiao Rou came to Shanghai to develop with great ambitions, however, she realized that she has purchased a counterfeit ticket at the train station, at this awkward situation, the cultured and refined Ou Yang Chen came to her rescue. Xiao Rou went for interview at a television station and the person who leads her is director, Lin An Di who is very bad tempered. She was very exhausted after each day of hard work and did not receive any praises, but Xiao Rou is always cheerful and meet people with a smiling face. Xiao Rou and Ou Yang Chen having known each other, admire one another talent and appreciate each other. But Ou Yang Chen has one concern and dare not express. Xiao Rou is full of curiosity on Ou Yang Chen and she also has a sense of loss. An Di change from a strict and cool guy to a person with determined tender feelings. This made Xiao Rou unable to withstand. At this moment, the ex-girlfriend Lu Tian Er who is always on the mind appeared! There was an article under the 'Lost and Found' column displayed in the notice board: '8 years ago famous dance star – Lu Tian Er arduous strive to success story'. At this spur of the moment, Xiao Rou professionalism as well as love will be put on ordeal, An Di is by her side, and eventually, Xiao Rou overcome her emotions and develop in the next phrase of her career.