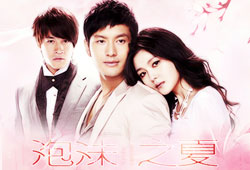 | | |
| --- | --- |
| Cast: | Barbie Xu, Peter Ho, Huang Xiao Ming, Canti Lau, Coco Jiang, Patina Lin, Fang Si Yu, Shen Jian Hong, Maggie Wu, Yang Han, Chang Kuo Chu, Zhang Ke Fan, Ke Huan Ru, Ying Cai Ling, Xu Ai Xin |
| Genre: | Romance |
| Episodes: | |
| Broadcast Year: | 2010-05-30 |
| English Subtitle: | Yes |
Description:
Xia Mo and Luo Xi were orphans living at the same foster home. They became close friends after Luo Xi saved Xia Mo from an embarrassing situation at a singing competition. However, Luo Xi fell for Xia Mo. On the other hand, Ou Chen, a young master from a rich family, was deeply in love with Xia Mo, so he deliberately separate those two by sending Luo Xi to England. 5 years later, Luo Xi came back as a superstar with tons of fans, while Xia Mo was newly signed by a record label. Just when they met, Ou Chen lost his memory.