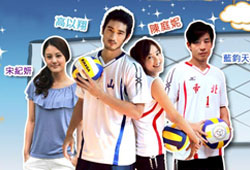 | | |
| --- | --- |
| Cast: | Godfrey Gao, Annie Chen, Song Ji Yan, Lan Jun Tian, Na Wei Xun, He Wan Ting, Yang Ming Wei, Qiu Zi Min, Zou Zong Han, Chen Yan Ru, Long Long |
| Genre: | Romance, Comedy |
| Episodes: | |
| Broadcast Year: | 2010-07-16 |
| English Subtitle: | Yes |
Description:
Growing up together, Bai Qian Rui and Xin Hai Jing never saw one another as more than friends. So it's no wonder that when Hai Xing calls upon Qian Rui to help out the volleyball club, Qian Rui declines. He is more interested in going out with the beautiful Jia Kai Lin than practicing volleyball with the tomboy Hai Jing.