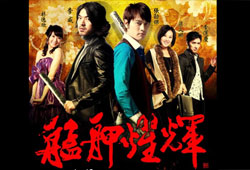 | | |
| --- | --- |
| Cast: | Li Wei, Michael Zhang, Lin Yi Xin, Liang You Lin, Li Yun Qing, Zhu Fan Gang, Ya Zi |
| Genre: | Romance |
| Episodes: | 73 |
| Broadcast Year: | 2011-04-12 |
| English Subtitle: | No |
Description:
When Chen, Lu, Xu, and Yu were young, the four toughest kids in town became sworn brothers and sister. Their parents, fearing that they would join a gang, intervened, and the kids went their separate ways. Years later, Xu's engagement to the daughter of a local gangster brought them back together. The joy of their reunion was soon overshadowed by the threat of gangster reprisal when Chen rescued a singer, Lin, from being kidnapped by the son of a gangster boss.