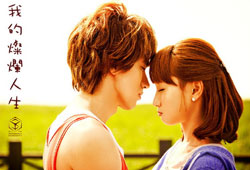 | | |
| --- | --- |
| Cast: | Jerry Yan, Yedda Chen, He Bin, Yvonne Yung, Xing Zi, Liu Wei, Fang Fang |
| Genre: | Romance, Comedy |
| Episodes: | 38 |
| Broadcast Year: | 2011-11-22 |
| English Subtitle: | No |
Description:
Qing Tian-Xian (played by Yedda Chen) lost her father in an accident. Her entire wealth was taken by her step mother Man Yi Lin (played by Weng Hong). She become homeless and later found a job at a restaurant group where she met Yu Hao Liu (played by Jerry Yan). Qing Tian won the the trust of Yu Hao's grandmother, the owner of the company. Wanting to inspire Yu Hao who does not seem to be motivated to run the business, the grandmother announced Qing Tian as the heir of her entire wealth. Yu Hao then got into fierce competitions with Qing Tian. In the process of competition, the two actually were able to discover more merits of each other and finally found their true love.