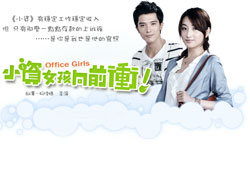 | | |
| --- | --- |
| Cast: | Alice Ke, Roy Qiu, Tia Li, Wen Sheng Hao, Janel Tsai, Guo Shu Yao, Patrick Li, Shen Meng Sheng, Lang Zu Yun, Jian Chang, Yan Jia Le, Wang Juan, Lin Jun Yong, Zhao Zheng Ping, Xiao Ba, Luo Ping, Michael Zhang |
| Genre: | Romance, Comedy |
| Episodes: | TBA |
| Broadcast Year: | 2011-08-21 |
| English Subtitle: | Yes |
Description:
Shen Xing Ren is not the best or the hardest worker, neither is she the worst. She enjoys working because it gives her the money to enjoy life. She loves a good romance but will not bend over back for a man. She is the new generation of office girls.