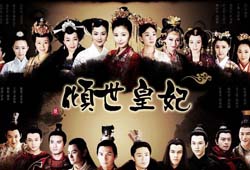 | | |
| --- | --- |
| Cast: | Ruby Lin, Yan Kuan, Wallace Huo, Tony Yang, Hong Xiao Ling, Kara Hui, Dai Chun Rong, Wang Lin, Wang Yu, Liu Tao |
| Genre: | Romance, Historical Fiction |
| Episodes: | 35 |
| Broadcast Year: | 2011-09-30 |
| English Subtitle: | No |
Description:
Fu Ya was an exiled princess who married three ambitious kings. The first marriage protected her from being executed with her family. The second marriage gave her shelter to heal her broken heart. The third marriage saved her people, but killed the man she loved. Although her husbands loved her, they were equally keen on using her to consolidate power. Their betrayals pushed her to become an avenging angel who would kill anyone in her way.