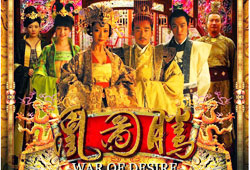 | | |
| --- | --- |
| Cast: | Zhang Han, Zheng Shuang, Bai Bing, Zhang Mo |
| Genre: | Romance, War |
| Episodes: | 50 |
| Broadcast Year: | 2011-12-17 |
| English Subtitle: | No |
Description:
A Tang dynasty love epic. A tale of three childhood friends, their friendship and love. Through the trials of the deep palace and the temptations of power, will love never change and friendships stay true? Zhang Han, Bai Bing and Zheng Shuang plays three childhood friends whose lives change when the lovers Zhang Han and Bai Bing are split up when Bai Bing is sent to the palace. While Zheng Shuang maintains his innocence outside the palace wall, betrayal and intrigue changes Bai Bing's character as she schemes for power. When her coup fails, the three childhood friends escape together on a boat. On the quiet lake, it was as if they returned to their childhood, but everything has changed.