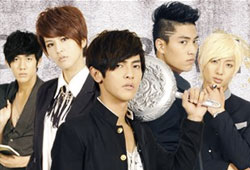 | | |
| --- | --- |
| Cast: | Jiro Wang, Ceng Pei Ci, Xu Ming Jie, Lin Zi Hong, Xiao Hou, Zhang Hao Ming, Wang Yi Wen, Huang Ren De, Erica Liu, Hsia Ching Ting, Ye Yong Tang, Jian Han Zhong, Na Wei Xun |
| Genre: | Romance, Fantasy, Action |
| Episodes: | 30 |
| Broadcast Year: | 2012-12-26 |
| English Subtitle: | Yes |
Description:
Story takes place after the real Liu Bei returned to the Silver Dimension. When Wang Da Dong was delivering Liu Bei through the inter-dimensional portal, he encountered a timequake and was thrown to ten years in the future. In the future, all the people on the KO ranking have mysteriously disappeared and the class of KO One is now controlled by a girl named King.