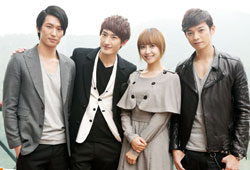 | | |
| --- | --- |
| Cast: | Victoria Song, Calvin Chen, Zhou Mi, Xu YuHan, Bian Cheng, Sean Lee |
| Genre: | Romance |
| Episodes: | 32 |
| Broadcast Year: | 2012-08-27 |
| English Subtitle: | No |
Description:
Young, talented, and handsome Qing Yu Jiang (Calvin Chen) receives orders to look for Chairman Yuan's long lost granddaughter, Shen Ya Yin (Victoria/Song Qian). Because of her parents' death, Ya Yin is bitter towards her grandfather. Yu Jiang not only eases the tension between them, but he gradually enters Ya Yin's heart. But when their love begins, Yu Jiang backs out because of his love for his childhood friend. Yu Jiang tries to find her, but fails to realize that she has been by his side all along.