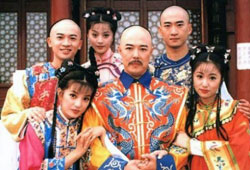 | | |
| --- | --- |
| Cast: | Vicki Zhao, Ruby Lin, Alec Su, Zhou Jie, Zhang Tie Lin, Fan Bing Bing, Huang Yi, Leo Ku, Ma Yi Li, Rebecca Wang, Huang Xiao Ming, Shui Ling, Dai Chun Rong, Liu Tao, Qin Lan, Li Ming Qi, Juan Zi, Miao Hai Zhong,Di Long |
| Genre: | Romance, Comedy |
| Episodes: | 112 |
| Broadcast Year: | 1998 |
| English Subtitle: | No |
Description:
Season 1: Xiao Yan Zi met Xia Zi Wei, a poor girl who marched a long way to find her father, the Emperor, but nobody would take her seriously. Xiao Yan Zi decided to sneak into the mountain where the Emperor hunts, but Zi Wei could not handle the tiring mountain climb, therefore asking Xiao Yan Zi to tell the Emperor her story. On her way, Xiao Yan Zi gets shot and could not fully explain her story, making the Emperor mistaking her for the Princess. Here starts a long and painful story of getting everyone to their proper roles, but many dangers lies near – the death sentence if anyone lies to the emperor, and an evil Empress who is waiting to catch Xiao Yan Zi in the act. Added on top, Xiao Yan Zi's lack of proper manners and knowledge of books has driven her closer to jeopardy.

Season 2: Our beloved fake princess returns for the second installation of the series. This time she is the fiancee of the Fifth Prince, but her life will be far worse off. The emperor's mother has returned from praying in the temples and she is appalled by all the changes that the emperor has made; it was bad enough that he adopted a daughter from the commoners but also found wives for the Fifth prince and Er Kang, who she wanted to marry his maid Qing Er to. To top it all off, Xiao Yan Zi's nonsense and no sense of palace rules has driven the Grand Empress over the edge. She is determined to drive the two girls out of the Palace. At this time, the beautiful daughter of a bordering nation - Han Xiang was "given" to the emperor as a prize so that the two nations will stop fighting. Han Xiang has a specialty that she gives off a sweet odor naturally. The emperor falls head over heels for her but unfortunately, Han Xiang already has a lover, Meng Dan, who is determined to get her back. Meng Dan fortuitously meet Xiao Yan Zi and the gang and for the love for sword fights they became close friends. Xiao Yan Zi decides to help them and sneak Han Xiang out of the palace. For this crime the emperor could take no more so he orders for the death of Xiao Yan Zi and Zi Wei. Wu A Ge, Er Kang and the gang sacrifice their positions and lives to save the two princesses and run for their lives. On their journey they are being helped by Xiao Jian, who are helping them for no reason but seems to not like the emperor very much... and what is with his special treatment for Xiao Yan Zi? The Empress, who still hates them used this chance to order secret assassins to kill the whole crew... Will they survive and be returned to their original positions?

Season 3: In the third installment of the series, the Grand Empress has come back for another run at the gang. At the frustration of Yong Qi's lack of heir, the Grand Empress has made Yong Qi marry another girl so that he may produce a son and maybe one day become the emperor. Xiao Jian, Xiao Yan Zi's brother is in love with Qing Er, but he has a grudge with the emperor for killing their parents many years ago. Since Qing Er is a popular person in front of the Grand Empress, her marriage is within the empress's hands. In order for them to be together, Yong Qi must marry the other girl. Yong Qi chose to be the hero and sacrificed himself so that Qing Er and Xiao Jian could be together. What is worse is that the nation bordering China is going into war and Er Kang became drafted. During one of the big battles he loses his memory and falls for another girl. Will Er Kang return to Zi Wei? Will Yong Qi fall for his second wife?